Purgatoire Valley Construction, Inc.
Commercial and Industrial Construction
Earthmovers and Pipeline Construction

Earthmoving Division
Home Page - Earthmoving Division - Construction Division - Pipeline Division - Building Division - Career Opportunities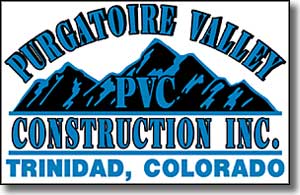 Our earthmoving division is extremely busy. The coalbed methane project going on in western Las Animas County has us building drill pads, access roads and pipelines. We also build compressor stations and industrial warehouses, workshops and garages. And we also regularly construct residential house sites, driveways, septic systems, and trench for electrical and water lines.
We do a lot of utility work in the area, plus lots of road maintenance and snow plowing (at that time of year). We're involved in a lot of things.
Because of our expertise and our ability to get the job done right, Purgatoire Valley Construction, Inc., has become one of the largest employers in southern Colorado. We are poised on the brink of becoming one of the largest construction companies in the Rocky Mountain Region with new possibilities opening up in other areas of Colorado, and in New Mexico, Utah and Wyoming.

Working on a drill pad


Getting ready to tear into the streets of Trinidad

Some of our crews specialize in utility construction and road building. We work for companies like Pioneer Natural Resources and XTO Energy building access roads, drilling pads and pipelines. Another of the projects on our plate involves the near-complete rebuilding of several miles of brick street in the Corazon de Trinidad, the National Historic District that makes up the Heart of Trinidad, Colorado. This project involves repairing and/or replacing water and sewer mains, moving all above-ground utilities sub-surface, rebuilding storm drains, concrete-slabbing the roadbed, and resurfacing the street with brick, just as it was in the early 1900's (but without all the horse manure this time).
We are well established in the oil and gas boom that is taking place in the Rocky Mountain Region and more and more of that dirtwork is coming our way. So when we say "Earthmoving," we're talking big 'dozers, front end loaders, backhoes, trackhoes, graders, tampers, packers, maintainers, and special equipment and attachments that help deal with the granite dikes we sometimes come across in the ground. Our operators are well-versed in handling just about anything that comes their way (and they usually welcome any challenge that allows them to really show their "stuff"). Our folks are good, we're proud of them and we take good care of them.
To further our business plan, we have partnered with Trinidad State Junior College in developing the EPIC (Energy Production and Industrial Construction) Program. This program offers Certification (1 year) and Associate Degrees (2 years) in Heavy Equipment Diesel Mechanics, Heavy Equipment Operating and Professional Welding. We contribute scholarships, equipment time and instructors to the program. We also offer jobs to quite a few of the graduates.
It's a good time to get in on a good thing. And the opportunities for advancement are great. We offer very competitive pay and excellent benefits to those who are motivated and ready to make this journey with us.
We have quite a few motivated, highly experienced people working with us already. We're looking for more and our future is bright, very bright. Are you interested?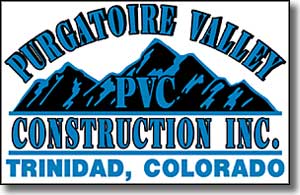 All text, photos and images are copyright © 2012 by Purgatoire Valley Construction, Inc.
All rights reserved.