Purgatoire Valley Construction, Inc.
Commercial and Industrial Construction
Earthmovers and Pipeline Construction

Commercial & Industrial
Construction Division
Home Page - Earthmoving Division - Construction Division - Pipeline Division - Building Division - Career Opportunities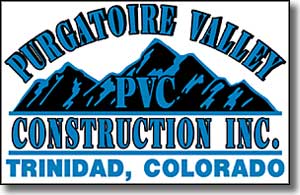 Our concrete crews cut their teeth doing residential prep and pours, then move on to commercial foundations and heavy industrial work. Our crew leaders worked their way up from the bottom and are among the best in the business. If they haven't done it already, then it probably hasn't been done anywhere. There's no better group of people to work with and learn from. And we like to promote from within.
And we don't just do concrete work. We take on all kinds of jobs: city parks, retail stores, industrial warehouses, office buildings, gas stations, car washes, mountain homes, you name it, we do it. With its supervision having over 150 years of combined experience, PVC is a company that can get you countless hours of hands-on experience, doing countless different aspects of the construction business. All you have to do is step up to the plate... and be ready, willing and able to work.
The photos on this page were taken at various construction sites. What you see is what we do on a daily basis. The people who hire us to do these jobs hire us because they know what they're going to get: excellent work at a fair price.

Jay Cimino Memorial Park, on the Riverwalk in Trinidad, Colorado


Jay Cimino Memorial Park

With the natural gas boom that's going on in southern Colorado, we have lots of work coming at us just in constructing the facilities that the gas operators and their sub-contractors need. As these projects move forward, more and more personnel are moving into our area driving the need for more housing and more retail and services construction. With well-trained, motivated people, we have found that even the sky is no limit. We're in a beautiful place at a really good time. How about you? (Think about it, we're talking about a mountainous, forested county the size of Connecticut where the Rocky Mountain elk outnumber the people almost 2-to-1. The hunting, fishing and other outdoor recreation opportunities are world-class. This is Colorado the way it used to be...)

Trinidad Skate Park: rated #9 in the world by Tony Hawk


Big 4 Country Store and High Country Liquor in Valdez, Colorado:
Convenience store, restaurant, gas station, liquor store, car/truck wash, business offices and apartments

Obviously, we're doing something right and we are heavily invested in continuing to do things right. That's why we helped put together and promote the EPIC program at Trinidad State Junior College: we simply couldn't find or train the number of skilled heavy equipment operators and mechanics that we need. And talk to anyone who works for us, every last one will tell you we take good care of our people. We worked our way up from the bottom, too, and we know what that kind of experience is worth.
It's a good time to get in on an extremely good thing. And the opportunities for advancement are great. We offer very competitive pay and excellent benefits to those who are motivated and ready to make this journey with us.

And we do some heavy industrial construction, too

We have quite a few motivated, highly experienced people working with us already. We're looking for more and our future is bright, very bright. Are you interested?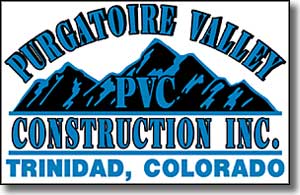 All text, photos and images are copyright © 2012 by Purgatoire Valley Construction, Inc.
All rights reserved.