Purgatoire Valley Construction, Inc.
Commercial and Industrial Construction
Earthmovers and Pipeline Construction

Building Division
Home Page - Earthmoving Division - Construction Division - Pipeline Division - Building Division - Career Opportunities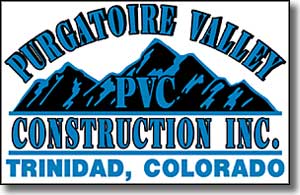 Our building division is extremely busy. Purgatoire Valley's Building Division just successfully completed the interior and exterior renovation of the City of Trinidad's Golf Course Club House. Crews are also in the final days of our St. Joseph's Hall Renovation for the Trinidad Area Catholic Church. Currently our building crews are working for the State of Colorado at the Otero Junior College in La Junta, Colorado, remodeling and expanding the Wheeler Library and Hall and at the New Elk Coal Mine remodeling different buildings as needed. Our building crews will soon be joining our other crews for projects in Walsenburg, Colorado and Raton, New Mexico.
Purgatoire Valley does all phases of the building process. From preconstruction planning and engineering to the final punch list, PVC can handle it all. Our building crews work side by side with our dirt crews, concrete crews and utility crews to better communicate with eachother. No scheduling issues with other subcontractors since we handle most work in house.
PVC is licensed, bonded and insured in Colorado and New Mexico, but is willing to look at any project in the country. With our many years of experience and our persistant work habits, Purgatoire Valley Construction has become one of the largest employers in Southern Colorado, with approximately 100 employees.

Exterior East Side Entrance Trinidad Municipal Golf Course Club House


New Kitchen at Trinidad Municipal Golf Course Club House

The above pictures are from our Trinidad Club House Renovation Project. The Club House project included select demolition of the interior, select framing, insulation, upgraded electrical, upgraded plumbing, new HVAC system, brand new kitchen and equipment, vega restoration, hard wood floor restoration, new flooring, drywall, painting, concrete sidewalks and a new colored and stamped concrete patio for the golfers to enjoy a refreshing beer or meal.
We are well established in the oil and gas boom that is taking place in the Rocky Mountain Region and more and more of that dirtwork is coming our way. So when we say "Earthmoving," we're talking big 'dozers, front end loaders, backhoes, trackhoes, graders, tampers, packers, maintainers, and special equipment and attachments that help deal with the granite dikes we sometimes come across in the ground. Our operators are well-versed in handling just about anything that comes their way (and they usually welcome any challenge that allows them to really show their "stuff"). Our folks are good, we're proud of them and we take good care of them.
To further our business plan, we have partnered with Trinidad State Junior College in developing the EPIC (Energy Production and Industrial Construction) Program. This program offers Certification (1 year) and Associate Degrees (2 years) in Heavy Equipment Diesel Mechanics, Heavy Equipment Operating and Professional Welding. We contribute scholarships, equipment time and instructors to the program. We also offer jobs to quite a few of the graduates.
It's a good time to get in on a good thing. And the opportunities for advancement are great. We offer very competitive pay and excellent benefits to those who are motivated and ready to make this journey with us.
We have quite a few motivated, highly experienced people working with us already. We're looking for more and our future is bright, very bright. Are you interested?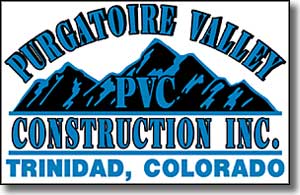 All text, photos and images are copyright © 2012 by Purgatoire Valley Construction, Inc.
All rights reserved.